Anyone You Know? ;)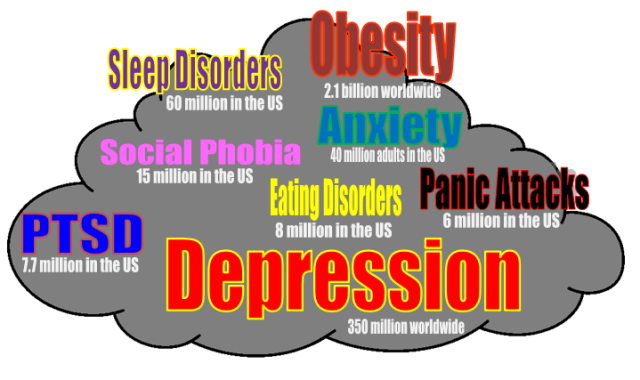 This is the world we're in. Henry David Thoreau's notion that most of us lead lives of 'quiet desperation and go to the grave with the song still in them' is reflected in those stark statistics. We've spent over a 100 years under the influence of three powerful messages. Fast, temporary, relief. It's literally embedded in every aspect of our modern lives. That relentless cultural wind in our face says do more, do it better, do it to get freedom from _______. Notice that?...Not freedom TO think, feel or achieve anything that lasts but freedom FROM the pressures, critics and oppressors we have internalized through decades and generations of social conditioning.
OK, enough bad news!
We have another world that has been polluted by the world we're in...our inner life. It's AKA the 'world within' and it's been lost in the shuffle. Seeking fast, temportary relief is a full time job for most on those listed above and it's a second job (unpaid usually) for the people connected to the ones on those lists. The 'world within' is the realm of somatics, a completely misunderstood back water 1st person science that was hijacked by the humanistic pyschologists in the late 60's. And as a child of that era, I am now here to steal it back for you. But I need your help. This is a team sport, this change the 'world within' stuff. Why? Because as much as we're all unique as individuals, we're wired to share, to bond, to exchange and learn and heal each other. I know, hippie talk. Not anymore. Stephen Porges, Ph.D. developed a model call the Polyvagal Theory that brought to light the biological roots of our social nervous system. We cannot thrive alone, only survive and moan. ;)
So now what? Well you can keep hacking away out there in the world we're in and find and then lose your fast, temporary relief from all this stress or you can seek the soma with me. And together we can clean up the 'world within' and create a clarity that makes us more co-creative and less self-destructive. And when you get that aha and you share it with someone who matters to you, we are all transported to the place where the 100th monkey is washing fruit now - the 'world to be one (won)'. This is a world that has rhythm, balance, harmony and soul. It's not da club baby! LOL This is a place we visit but never stay; our timeless, collective heart.
Enjoy the nerdy You Tube clip below. I'll feature a new messenger every month or so.
I share here too. Thanks for reading this. Surf around, plenty to nibble on here.
Health care, as it stands, is in flux at best. I think we're way off even chasing health and happiness anyway. What people want is HELP not health. Help is tangible, it's visceral, it make sense and has instant impact. When you're lost, it offers direction. When you're hurt, comfort. When you're lonely, company. The audio program I'm offering gives you that free every weekday and then there's two monthly extended audio packages to take it deeper. So get my expert 2 cents on how to unhook from the system that has failed, poisoned and left us in a dysfunctional double bind. With me you'll get awareness not answers...stuff you can use to make a crappy day happy. That somatic life is raw and rigorous. Be the first to realize you're in the dawn of the age of 'help care'. So lemme help ya!;)
Try the All-New Version of MoodBender Live!
~~~~~~~~~~~~~~~~~~~~~~~~~~~~~~~~~~~~~~~~~~~~~~~~~~~~~~~~~
My contribution to the somatic path is something called The 4 Domains. We are born into these fixed perspectives and we are constantly influenced and guided by them, personally, socially, naturally and even metaphysically. But we still live in a culture that is indifferent to them so we largely ignore or distort their message. Which one are you? Short answer: you are all of them! But one is your primary domain, your somatically closed identity. It keeps you safe until you're about 25...then you need to be able to shift into the 3 secondary domains you acquired from your interactions with others and the world around you. When you are unaware of that silent contract with life, incoherence grows and your social stress will deepen. The good news is we can renew that contract in an instant. Here's my attempt to introduce you to your cosmic reflection. With that, welcome to Soma Space. Travel light ;)
---------------------------------------------------------------------------------------------------------------------------------
The easiest way to get into my whirl is to follow the moon...click and learn how....
What week is it? What does that even mean?

~~~~~~~~~~~~~~~~~~~~~~~~~~~~~~~~~~~~~~~~~~~~~~~~~~~~~~~~~~~~~~~~~~
Time to get your motor running... Take the "Summer Stock" Seasonal Transition Survey...Vroooom!
~~~~~~~~~~~~~~~~~~~~~~~~~~~~~~~~~~~~~~~~~~~~~~~~~~~~~~~~~~~~~~~~~~~~~~~
I did an in-depth interview with Alejandro Martinez Gallardo from pijamasurf.com
Click the pics to read each installment...good for the curious types...
Note:
Once you open the article, R click on the page to translate it into English...
~~~~~~~~~~~~~~~~~~~~~~~~~~~~~~~~~~~~~~~~~~~~~~~~~~~~~~~~~~~~~~~~~
178 Myrtle Boulevard, Larchmont, New York 10538
Questions & Comments