co·her·ence (k
-hîr
ns, -h
r
-) The working definitions for coherence range from the tangible to the abstract, from the literal to the figurative, from the cosmic to the cosmetic. Our aim at this conference was to apply them to real-world issues facing people from all walks of life as we enter the era of Health 2.0...or not as we found out.
A Tale Of Two Elephants...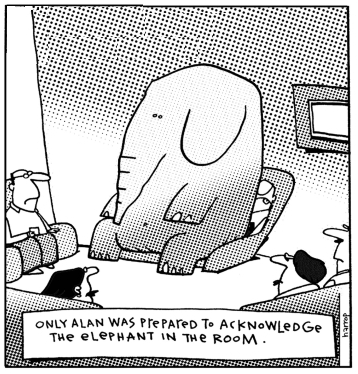 In the Summer of '09, during the town hall meetings that got pretty testy, I become aware of this vague but emerging community called "Health 2.0". After a year, it was clear to me there were two versions of this thing. One was being driven by the policy makers, political wonks and stakeholders in Obama Care. The government was going to digitize our medical records, develop virtual medicine to upgrade high end procedures and make the lives of the providers, hospital administrators and pharmacies into a wireless network. On the surface, that seems long overdue, but far from my daily operation as someone operating outside that system for almost 20 years. The other Health 2.0 that wasn't getting as much fanfare was what drew my interest. This one spoke of a revolution that would be consumer driven, expert supported and serve to counter the governments efforts to de-humanize almost every facet of health care.

After a year of keeping an eyes of this movement, it's apparent that the early adopters are here. A 2009 study by Pew Internet & American Life Project, revealed that 113 million Americans, representing 80 percent of Internet users, search the Internet for health care information. The availability of health information on the Internet makes a difference in consumers' lives. Following are some facts from the Pew Internet & American Life report:

58% say the information they found in their last search affected a decision about how to treat an illness or condition.

55% say the information changed their overall approach to maintaining their health or the health of someone they take care of.

54% say the information led them to ask a doctor new questions or to get a second opinion from another doctor.

These statistics indicate the value of health information on the Internet to consumers and reinforce the need to make informed decisions about what health and medical websites to use.

Finding and Evaluating Health Information On The Internet
Mary Beth Klofas, MLS
http://is.gd/fStY4
So that is the elephant in the room...People are consulting the web for health information, that they are acting on and it's impacting their lifestyles and behavior. The trouble is, most of that information available is framed in the same 'ill-conceived' model that led to the need for the grass roots side of Health 2.0. So when the public runs to get health information from the web, they are more likely to encounter the same menu of options they get on the ground from Big Pharma, insurance lobbyists and now their government supported allopathic modalities. My question going into the 2010 CoCo was if there was room for coherence in that tag cloud...

That's when I confronted the 2nd elephant. This one was more familiar to me. Having wrestled with the enigmatic etiology of vertebral subluxation for 20+ years (JVSR, part 1), (JVSR, part 2) - I was used to people having different ways of defining a common term. Coherence didn't seem nearly as daunting at the outset. In my view, it was simply communication without effort, plain and simple. What I was unaware of before this conference was how diametrically opposed each contributor's definition was and how content everyone already was in their respective provincial niches.

We started out with a plan to coalesce everyone's ideas by moving from our comfort zones into a common ground where Health 2.0 advocates can notice us. We began by asking about everyone's PHILOSOPHY about coherence. Those answers would help frame the SCIENCE that applies those ideas. From that we'd surely get better and more flexible APPLICATIONS of coherence and the end result would be an INTERDISCIPLINARY PLATFORM based on coherence.
Here they are in their general and specific form...

1) Define coherence in your terms...
"How can we unify all the different definitions, concepts and principles that are coherence-based?"

2) What are your key applications of your definition?
"How can we combine the qualitative and quantitative models of coherence into an integrated perspective?"

3) What do you see as the major impact of your application within your field?
"How have the models of coherence impacted the way we educate, deliver care and communicate?"

4) What do you see as the major impact of your application outside your field?
"What are the implications/obstacles for coherence as a core idea as Health 2.0 evolves?"

I invite any of the contributors who have not texted their responses,
as well as anyone reading this who has a take on it, to share their thoughts here.
I'll then post it on the 2010 CoCo texters page (see link below) so others can view it
and add their comments on our Message Board...
~~~~~~~~~~~~~~~~~~~~~~~~~~~~~
The Aftermath...
What we're ending up with is more introductory, but more cohesive. Turns out coherence is not an intellectual debate at all. It's a full scale existential experience that requires you to engage in articulating your core passions, assumptions about reality and a whole host of TBA stuff that emerged from every interaction we had at the conference. Rather than getting a lot of cognizant answers, we ended up revealing why there's an inherent resistance to what can be a very paradoxical, yet equally powerful idea. Here's a summary of what I experienced and how to use the resources here to develop a somatic sense of coherence for yourself...

Step 1
Clear As Mud!
[Confusion Before Coherence]
Science Confronts Philosophy

It was obvious that rather than being different pieces of the same puzzle, the contributors who provided us solo videos, text or audio were polarizing forces to those who assembled in Bridgeport. Just as we all have a working set of principles in our belief system, coherence as a concept is an idea that immediately reveals how you communicate without effort. Are you content with using a more mathematical and quantitative approach and focus only on the literal, external world? Is that really the opposite of people who are naturally drawn to the intuitive and qualitative path that emphasizes the weighted world of values and relevance? The key to this step is that once you allow for confusion, you can begin to contextualize your focus, which shifts your awareness. From there your convictions are either confirmed or they're altered. Either way, the result is coherence. You'll know you're there because they'll be an excess of evidence to effortlessly convey. What was once overwhelming becomes self-apparent.

To get a sense of where you are on this spectrum, watch these two videos...

Rob Bryanton, TENTHDIMENSION.COM
Stephen Elliott, COHERENCE.COM

Which one did you feel represented your worldview more accurately
or better said, which one did you naturally agree with more?

Discuss your reactions on our Message Board
2010 CoCo Message Board
_____________________________________________________
Step 2
[K]No[w] What?
[Results Reflect Relationships]
Philosophy Consults Art

Our contributor roster changed in the afternoon but the process of deciphering the elements of coherence remained a riddle. The panel attempted to deal with the paradoxical aspects of the personal and communal experience of coherence. It's really about leaving your individuated perceptions and embracing your undividuality - an undivided duality. That means we must learn to invite or 'let life in' as Tom Myers reminds us. From there we can ask new more empowering questions that align us with a healthy trust of the unknown. This leads to an integration of self and surroundings which is achieved when we can access the 'image of the invisible' as Marc Grossman spoke about on the panel in his review of the nature of sterograms. That delivers us to a place of intimacy - which is what coherence feels like on a biosocial level. From that mirror we can live within the paradox and oscillate freely in the 'necker cube' consciousness that pushes us to be able to read the world from a non-local reference point...

Here's an exercise to try...verbalize what you see when you look at this set of letters...

IAMNOWHERE
If you can feel safe and centered in both interpretations you "[K]no[w] what?"

If not, watch these two videos and retake the challenge.


Douglas Rushkoff, RUSHKOFF.COM
Rick Leskowitz, "The Joy Of Sox"

Which one did you feel represented your worldview more accurately
or better said, which one did you naturally agree with more?

Discuss your reactions on our Message Board

2010 CoCo Message Board
_____________________________________________________
Step 3
A Moment Of Venn
[Opportunity + Ideas + Technology = Influence]
Art Interdigitates Life

On SUN we reconvened and welcomed the technical contributors to the fold. We spent a lot of time reviewing the realizations we had on SAT. No longer was it about creating a mosaic of all the different 'hands on the elephant'. The elephant in our sights today was Health 2.0 and that was where we began our conversation. It was my feeling that unlike prior to the conference, it wasn't up to us to change the conversation within the technical circles of Health 2.0 anymore. To me, it's already just another version of Health 1.0 and it'll just end up being a digital pharmacy with some virtual support groups for the millions of allopathic patrons who have little knowledge or interest in coherence.

So where is the opportunity? As we discovered on SAT, coherence emerges from confusion that is welcomed rather than wrestled with, so what better way to share that than through apps. The app world has taken over the web. We're entering an era of narrow-casting. We don't need to convince anyone that coherence can help them perform better or be more productive. It's more about creating ways to enhance the tolerance for the incoherence that we all live in. That's the lasting benefit of this information. The second coherence becomes an intervention, it's dead.

"The Internet is the real revolution, as important as electricity; what we do with it is still evolving.
As it moved from your desktop to your pocket, the nature of the Net changed. The delirious chaos of the open
Web was an adolescent phase subsidized by industrial giants groping their way in a new world.
Now they're doing what industrialists do best - finding choke points. And by the looks of it, we're loving it."

Wired magazine, SEPT 2010
[click to read the whole article]
To get a good feel for the current state of Health 2.0, watch these two videos...
Suzanne LaCombe, MYSHRINK.COM
Alexandra Drane, ELIZACORPORATION.COM
Which one did you feel represented your worldview more accurately
or better said, which one did you naturally agree with more?

Discuss your reactions on our Message Board
What's Next?
Look for a DVD summary of the conference panels, videos and audio contributions by DEC '10. There's some talks underway for an on-line monthly CE course for chiropractors and other help professionals through UBCC. There were other interesting possibilities for ways of delving deeper into the ideas we raised. We'll keeping having those conversations and as soon as something clicks it'll be posted here.
But now the onus is on you, the newly created coherence consumer, to establish a virtual community from all the confusion that Health 2.0 brings. The aim here is to help you transcend that model of providers and users, health and disease, the covered and the uninsured, and learn to live in the rhythms that our contributors hinted at. Once you achieve coherence with any of those, make that experience a building block in your life and travel light from there...


To get a closer look at all our 2010 participants, visit the page below.
For all video/audio and texted contributions visit these pages below...(still being updated frequently!) ;)
Get Your Official 2010 CoCo Healing Music CD's Now!
ValRock Music and their fearless leader, Valerie Romanoff have kindly allowed us to offer her debut CD's at the conference, but why wait? Listen and buy them now and get your 2010 CoCo groove on today!
To get involved with 2010 CoCo and beyond click below.

You can always reach me, Docta Mark, right here in Soma Space...
I'll reply to most e-mails within 24 hours and v-mails after 8pm ET.